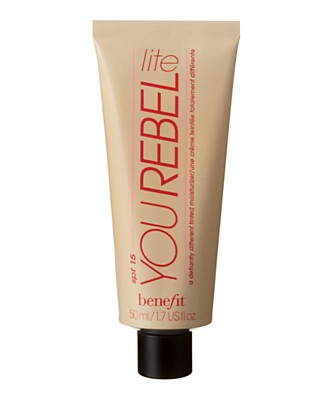 Benefit's You Rebel Tinted Moisturizer!
A Review
Hey ladies, and guys, I wanted to do a product review for you all on a product that I have been using throughout the summer, and that product is, of course, the You Rebel tinted moisturizer. If you are interested in anything cosmetic, I am sure you have heard about tinted moisturizers since they seem to be all the rage in the beauty world right now, especially during the hot summer weather.There are so many brands with their versions of tinted moisturizers that it can be hard deciding which one to buy, and trust me, every company has a unique formula and they all work quite differently from one another. So here is my review on this particular tinted moisturizer by Benefit Cosmetics.
I believe the main reason we purchase a tinted moisturizer over a regular foundation is to simplify our morning routine. Doubling up your morning moisturizer with some foundation is the perfect way to get yourself out the door faster. But the product better do the job right or you will spend the rest of the day fussing over your makeup and ultimately spending more time on your face throughout the day. What I loved about this product was that it is truly moisturizing! I have a hard time finding tinted moisturizers that actually moisturize and don't leave me needing to apply a separate moisturizer prior to application.
I found that after rinsing my face with cool water in the morning I could apply this TM all over my Combination/Dry skin and I would feel perfectly hydrated throughout the day. It also did a decent job of smoothing out my complexion. I am fortunate to no longer suffer from acne, just the occasional spots that pop up during that certain time of the month, so I don't have many things to cover on my skin. I mostly just have some slight discoloration, and those dang blackheads on my nose. This TM did smooth out my complexion but did not completely eliminate the appearance of my blackheads. I did need to use concealer as well to cover up my under-eye circles. If you are someone with more redness, discoloration, or acne spots I wouldn't recommend this product if you are looking to completely cover those things up.
You ladies and guys with oily skin, also beware. This product is very moisturizing and will most definitely leave you feeling greasy.I have dry skin but tend to get oily in my T-zone. With this product, the only way I found to control oil was to first apply a foundation primer, I use Prime Time by Bare Minerals, and I would also set the TM with translucent powder (also from Bare Minerals).
The fact that I had to apply the primer and powder was an unfortunate part of this product since the whole point of a TM, for me at least, was to be less maintenance and to have less makeup on my face. However, even with applying setting powder over the TM my makeup looked 100% natural. I always got compliments on how wonderful my skin looked while I was using this product because no one could tell I had makeup on, just that my skin looked clear, healthy, and dewy.
Overall, I give this product a 3.5 out of 5 stars. It is moisturizing enough to not have to double it up with your regular moisturizer and it applies so smooth and easy, like butter. I simply used my fingers to smooth it all over my face. The coverage is definitely light coverage, no where near medium coverage. This is not a product I would recommend to someone with oily skin but it works well for combination to dry skin types.
My only other complaint is the packaging. The packaging is adorable and the tube itself is metal and it works perfectly fine; my only problem with it was the cap. It could never be screwed down tightly enough and I found that if I threw the product into my makeup bag upside down, the next time I used it, the product would ooze out all over the place and I would end up wasting a lot of product. As long as you are conscious of storing the product right side up, however, you will be fine.