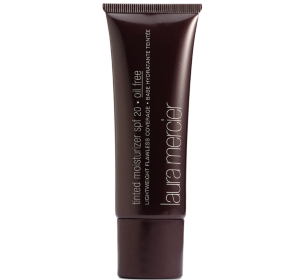 If you haven't heard of this product already, then you are missing out on the holy grail of all tinted moisturizers and it is about time you read a review on it. After receiving a sample of this TM from my local Laura Mercier counter and using it for a couple weeks, I was hooked and head over heels in love!
It took me some convincing to purchase this product, at 42$ it is not something to pick up on a whim, but as soon as I tried the sample I knew I would be back to buy the full size. My shade is in Nude and there is quite a selection of shades to choose from so I am sure everybody could be matched to their perfect color.
The texture of this product was a bit different then other TMs I have tried, and at first touch I was skeptical of how easily this product would be applied. The product, being water based instead of oil based, is quite a bit thicker and stickier feeling than I expected. When it is in your fingers you just can't imagine it going onto your skin so smoothly. I prefer to apply TMs with my fingers because its quicker and, especially for this particular TM, the heat from your fingertips really helps to melt the product right into your skin.
Despite the fact that the product feels thick in your fingers, it applies fairly well. The application isn't as smooth and simple as smearing a moisturizer onto your face. It does require a bit more massaging with your fingers to spread the product around but the product itself blends into your skin so seamlessly it's amazing! You get a truly, flawless natural look.
The moisturizing capability of this product was also a huge deal for me. I was concerned the oil free would not provide enough moisture for my combination/dry skin and like I have said before, I enjoy TMs specifically because they are supposed to be a 2 in 1 product. I do not want to have to apply moisturizer under a TM. The consistency of the product in my fingers, again, concerned me. I urge you to try the product on your face before judging it because this product was surprisingly very moisturizing. After applying this product on my freshly rinsed face, my skin had no tightness to it and it felt refreshed and hydrated.
The other factor to this TM that amazed me was the level of coverage it gave. The coverage is what I would call light/medium. It is super light by nature but this TM is very buildable. Wherever I have some problem areas i.e. redness or dark circles, I apply a bit more product and the coverage definitely amps up. This TM has the most coverage of any other tinted moisturizer I have found without it feeling heavy like a foundation.
The staying power of this TM is also outstanding. I have no need to apply a primer or a setting powder with this tinted moisturizer and I swear it lasts all day on my skin. I love this because it definitely saves me time in the mornings not having to take those extra steps.
This product is definitely a holy grail item and I give it a 10 out of 10!